(
Original forum link.
)
We are very excited to introduce a fantastic new event. In game, GoPets travel from desktop to desktop, person to person, country to country. We thought it would be great fun if a GoPet plushie could travel in the real world in a similar way!
Allow me to introduce Kimbap, our GoPets Ambassador of good will.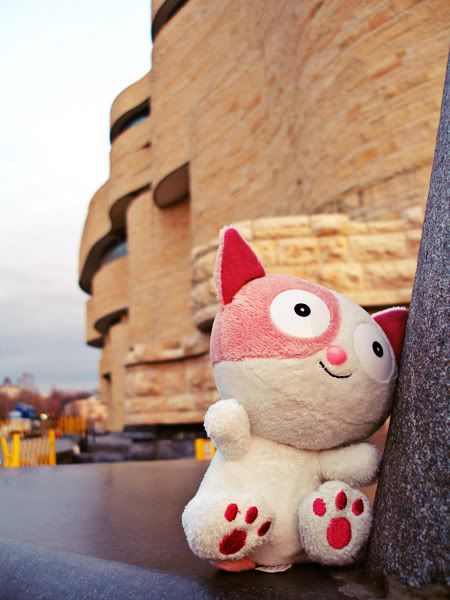 Kimbap at the National Museum of the American Indian Museum in Washington, D.C., courtesy of Meowmeowbutt.
Our famous plushie will be traveling from GoPets user to GoPets user!
Kimbap has already started her world tour, and we will share her adventures with you through various venues: through her own
blog
, in the
forum thread
, and in the official
Gopets LiveJournal
Some long-time GoPets members have already volunteered to host Kimbap for a few days. They will treat Kimbap like a guest in their house and take her around their hometowns, showing her the sights! They will take 10 to 20 pictures of themselves and Kimbap as they both experience what is special about where they live. We will then post their pictures along with a write up outlining their adventures. :)
Every user who has successfully completed their tasks and have sent Kimbap off to her next friend will receive 2 items for their GoPets desktop.
One is the Kimbap doll for GoPets to love and hug!
The second is a Kimbap Hot Air Balloon!
GoPets members not able to participate in the real-life adventures of Kimbap will have a chance to participate and win in-game Kimbap items! Monthly online events will be hosted in a separate forum thread.
First Contest!
We hope that this will be a fun and interesting way to share information about other countries and cultures from around the world. I will be posting Kimbap's adventures on LiveJournal, so stay tuned!